Nenad Perunicic
Position:

half left

Number:

8

Date of birth:

01.05.1971

Place of birth:

Pljevlja / Montenegro (Yugoslavia)

Nationality:

Yugoslavian, from September 2002 German

Height:

2.03m

Weight:

106kg

Marital status:

married to Tanja

Occupation:

professional handball player

In club since:

1997

In club until:

2001

Clubs:

Jugovic Kac (YUG)
Roter Stern Belgrad (YUG)
1993 Paris St. Germain (FRA)
1994 Elgorriaga Bidasoa Irun (ESP)
1997 THW Kiel
2001 SC Magdeburg
2004 SG Wallau/Massenheim
April 2005 Al-Ahly Doha (QAT)
2005 Pick Szeged (HUN)
2006 FC Barcelona (ESP)
07/2007 Algeciras (ESP)
11/2007 temporary end of career
2008 HC Buducnost Podgorica (MNE)
2009 end of career

Coached clubs:

09/2011 coach RK red star Beograd (SRB)
additionally since 2018 national coach of Serbia
122A for Yugoslavia (as at 30 Sep 2000)

Career highlights:

German champion 1998, 1999 and 2000
German cup winner 1998, 1999 and 2000
EHF-cup winner 1998
Champions League final 2000
German Supercup-winner 1998
Hungarin cup winner 2006 with Pick Szeged
Champions League winner 1995 with Irun and 2002 with Magdeburg
Spanish champion 1995 with Irun
Spanish cup winner 1995 with Irun
Spanish super cup winner 1996 with Irun
winner of European cup of cup winner 1997 with Irun
3rd place EC 1996 with Yugoslavia
3rd place WC 1999 with Yugoslavia
Best foreign player in Spain 1995
Voted into the German 1st division all star team 2000/2001, 2001/2002 and 2002/2003

Miscellaneous:

Nenad made his debut in the Yugoslavian top division at the age of 16. Nenad exercised Karate at a young age.

More information:

Homepage: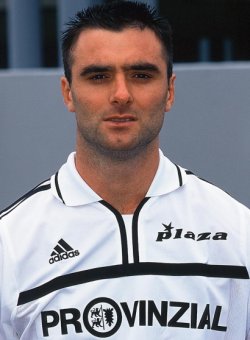 Nenad Perunicic.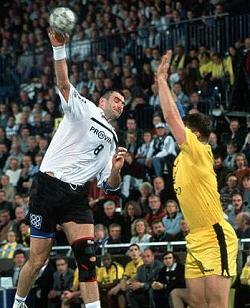 Nenad Perunicic in action.